A VERY BUSY DAY!
Everyone associated with WikiLeaks must've been absolutely knackered Thursday night!
The 2nd anniversary, Thursday 19th June, of the day Julian Assange first took refuge in the Ecuadorian Embassy was a very busy day indeed for supporters,  reporters, WikiLeaks staff and lawyers alike…
At the Ecuadorian Embassy, WikiLeaks supporters mark Julian's 2 years inside
JULIAN'S MESSAGE ON HIS  2 YEARS IN THE EMBASSY
'It is great to see people out to mark the 2nd year of all this. 
The last 730 days have been intense, and the knowledge of your support – the daily vigils and and the big rallies – have been really heartening to me – Thank You! 
Truth has a habit of reasserting itself. It asserts itself in our resolve and our commitment. It may have been possible at one time to ignore the truth about why I am unable to leave this embassy. 
We will see an end to this siege. But we will only see it when the US govt, the UK govt and the Swedish govt, and other governments around the world follow Ecuador's brave lead and commit to protecting WikiLeaks, its staff, and its sources, from unacceptable transgressions against freedom of expression. 
I want to express my warm thanks to the government of Ecuador. 
And now let's take a moment to remember absent friends, and allies who are suffering for their beliefs and actions
Remember: 
Chelsea Manning
Jeremy Hammond
Godfried 'Anakata' Swartholm
Barrett Brown
The PayPal 14
Rudolf Elmer
Edward Snowden
Remember their courage and conviction – not just this day, but every day.'
Julian Assange #June19 Ecuadorian Embassy London 2 year anniversary of his taking refuge from the threat of extradition to the US.
Below is a video of this message being read outside the Ecuadorian Embassy:
Speeches, vigils, interviews, announcements, press conferences, and, of course, a new and highly significant release, all made the day feel full-on & active – hectic, but very positive – for anyone involved or paying attention. And plenty were.
SOME WERE ON THE STREETS FOR ASSANGE
Earliest in Oz, of course.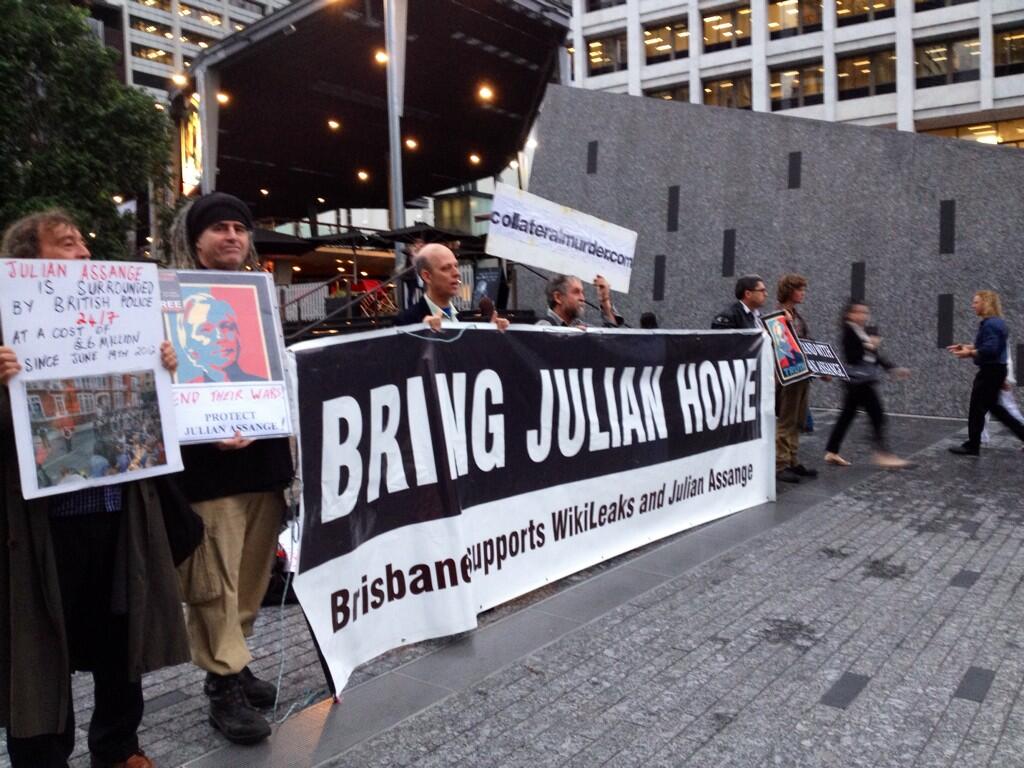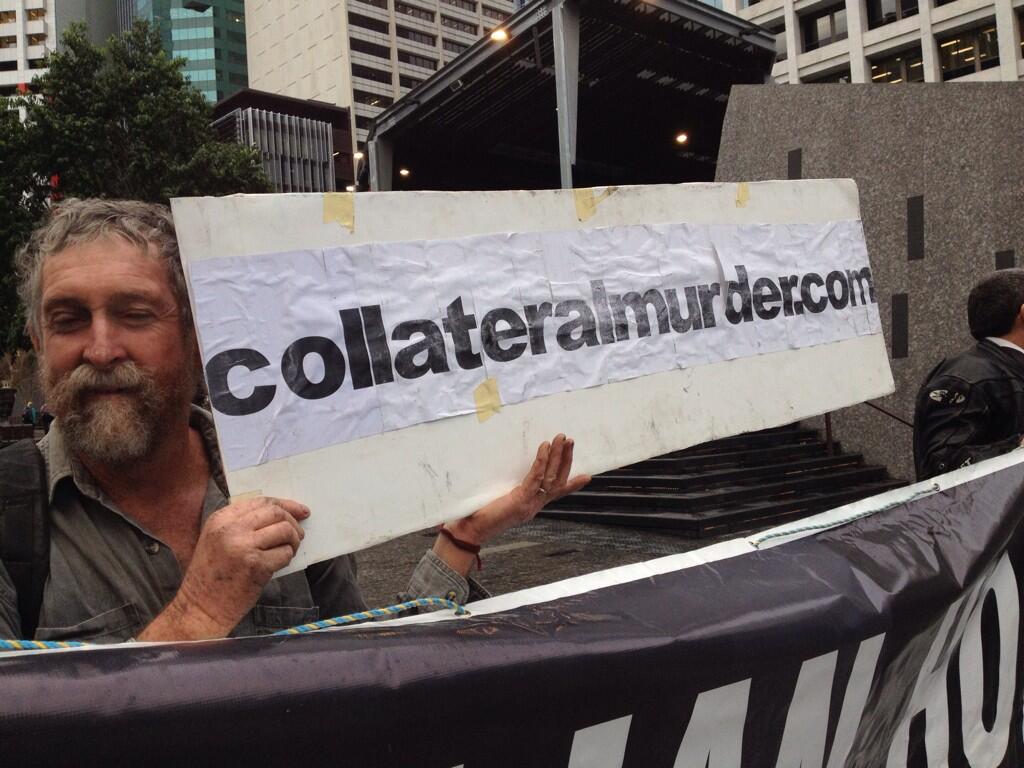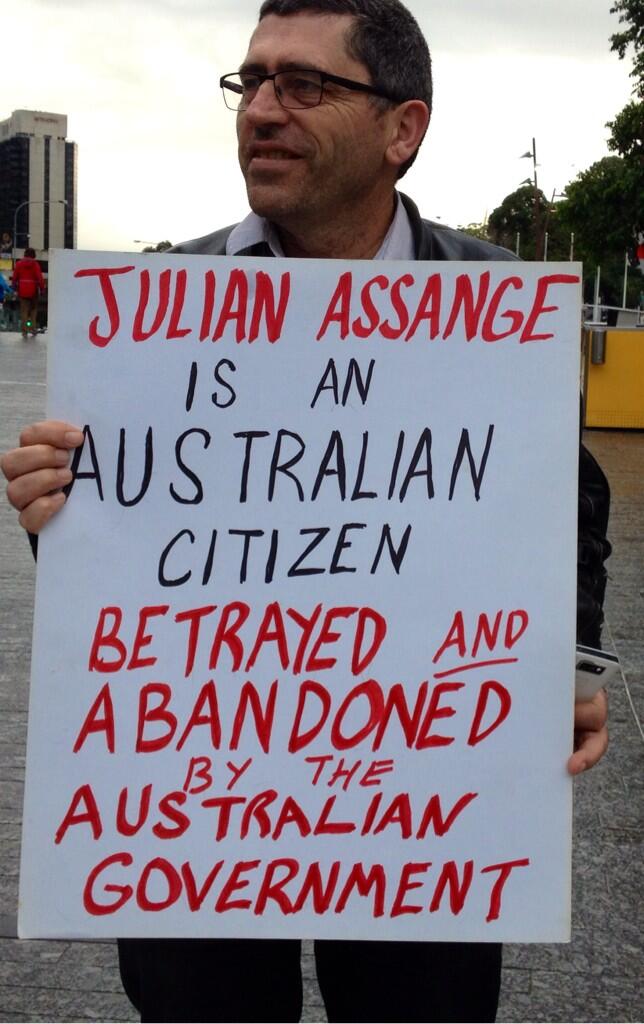 Somerset Bean produced an absolutely magnificent infograph of the 'story so far'. Incredible stuff, and so useful. Must have taken hours! Click through on the linked words above and look at them all. It's REALLY good.
*Those* banners were dropped in Wrexham, Wales, at the time of the Embassy vigil and in preparation for Wrexham's Armed Forces Day, Sat.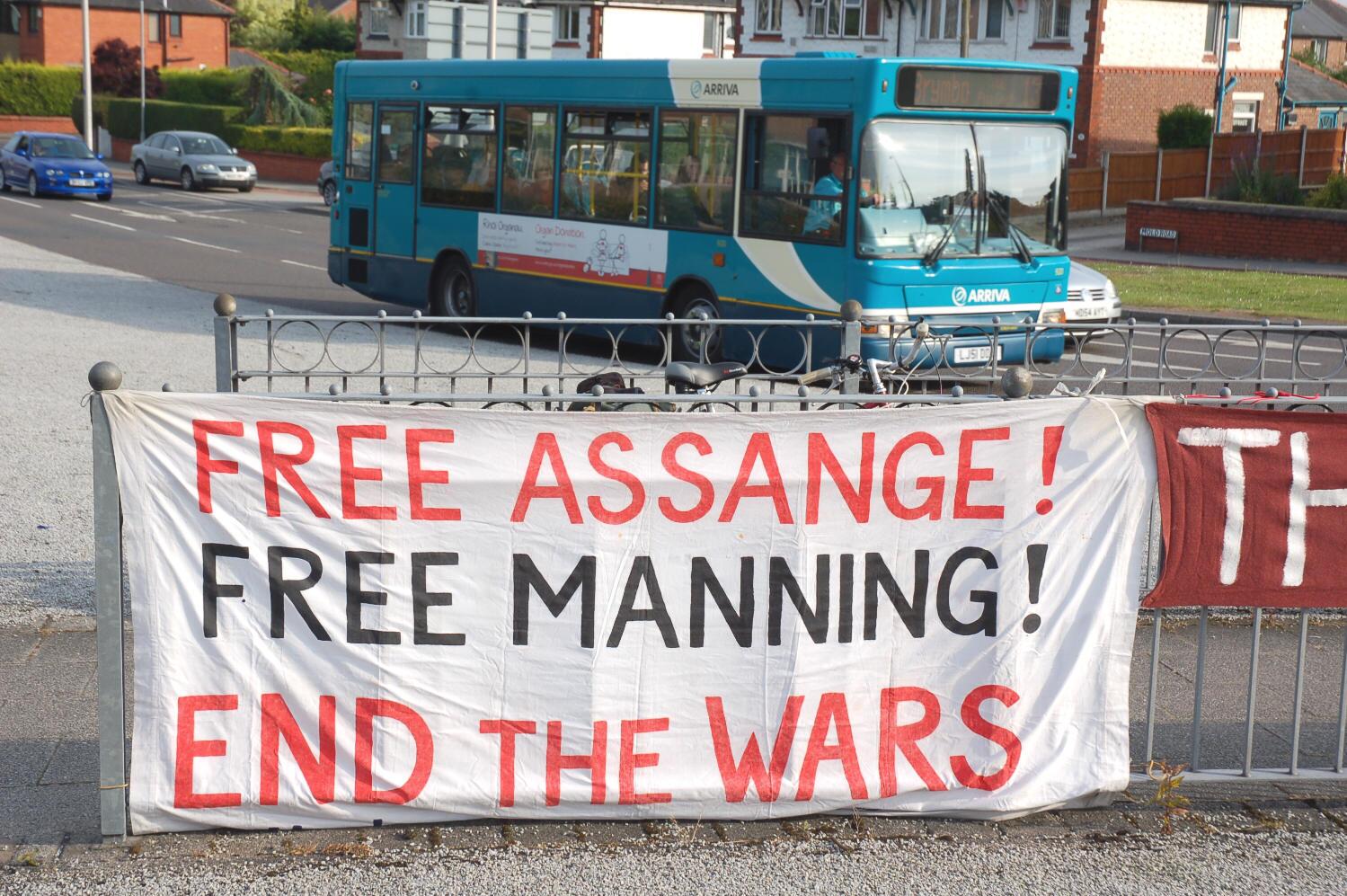 Grannies for Peace stepped out in New York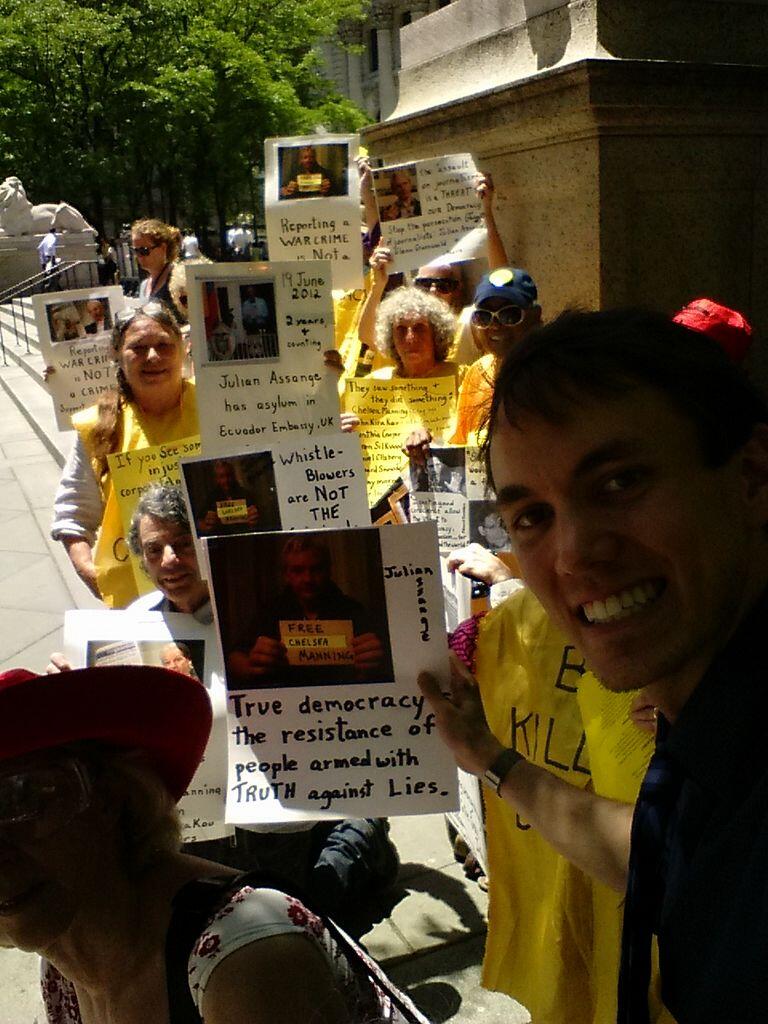 Fabulous flyers were handed out in St Petersburg, Russia
by @nomoretribbles,
Cool stuff in Germany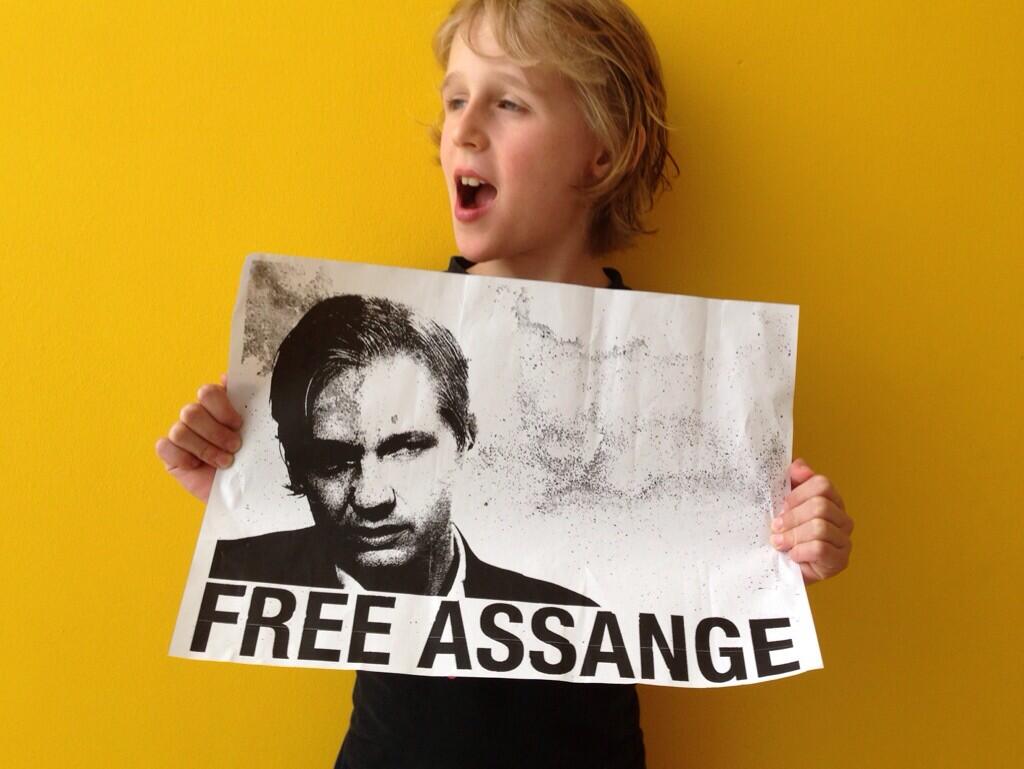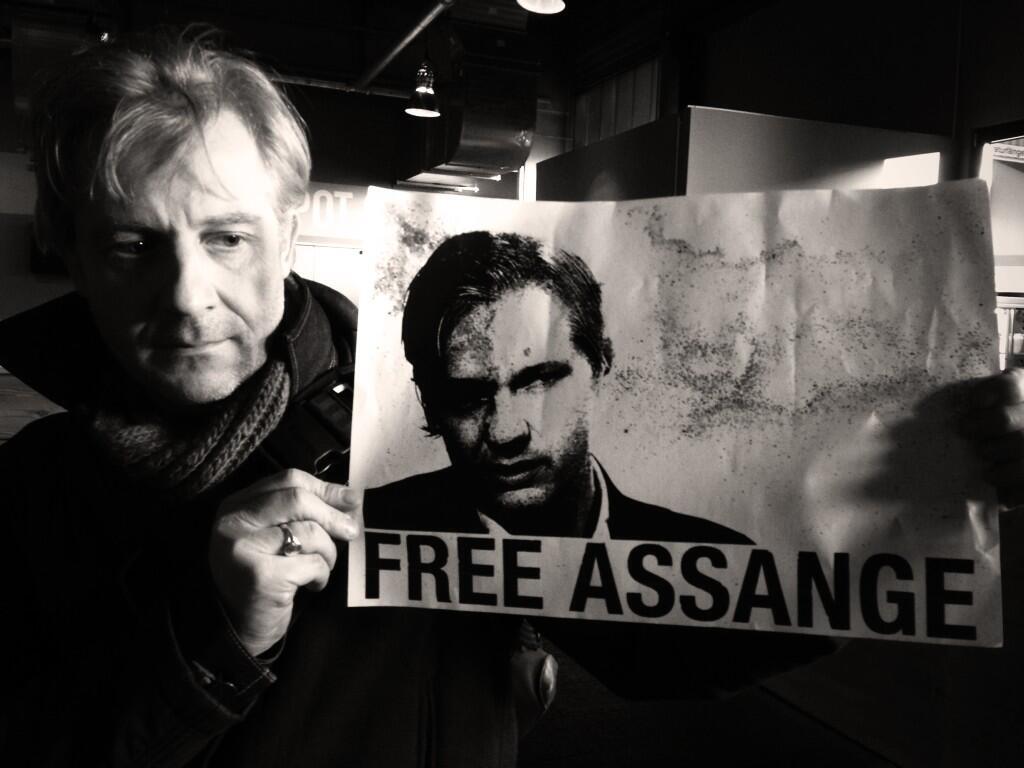 And in the evening, in London, supporters gathered at the Embassy for this:
and, as this video shows, the crowd at the Embassy was on great form!
More about the evening outside the Embassy and photos at the end of the post. Meanwhile, much else was afoot…
NEW LEGAL CHALLENGE
In a move to shift the deadlock with the Swedish authorities, it was announced that next Tuesday (24th June), Julian's legal team will make a new court filing to the court in Stockholm. From the press release:
As a result of new information, on Tuesday 24th of June at 1pm CET, Julian Assange's lawyers will file a request to Stockholm District Court for the removal of the extradition request and the detention without charge, which have kept him in different forms of deprivation of liberty since 7 December 2010 (3.5yrs).
The content will be revealed next Tuesday at time of filing.
UK law regarding extradition has changed since UK courts ruled that Julian must be extradited (his case highlighted the particular inappropriatness of it), and, if Sweden's extradition request was before a UK court now, he could only be extradited if charged (which, you remember, he has not been!). Whether this could apply retrospectively is open to debate.
It must surely weaken the already shaky case the UK govt makes about its obligations to Sweden (to the tune of £6.3m so far), though.
To help keep up the pressure see the new site Free Assange Now! https://freeassangenow.org/ and sign the petition
HOPE – AN UPTURN IN THE MEDIA COVERAGE?
Those legals – the impeccable Jen Robinson and that solid rock, Michael Ratner – seemed to be cropping up all over the place buzzing from interview to interview, with Assange and without him; and we were hearing from Kristinn Hrafnsson too.  They focused media attention on the background to Julian's two year sojourn in the Embassy, the aggressive stance of the US administration towards whistleblowers and press, in particular National Security reporters, and announced the new legal challenge, as well as the new document release.
And Julian was also able to talk about the real meat of all this at one point – the current geo-political situation – when he was invited by Alex Wagner on MSNBC's Now with Alex, to comment on Iraq.
Watch him come into his element from 2mins in the clip below! (but watch from the beginning because otherwise you'll miss the references to Chelsea Manning and the Iraq War Logs).
http://www.msnbc.com/now-with-alex-wagner/watch/assange-discusses-2010-iraq-wikileaks-report-284589635883
Posting here, too, a near perfect interview with Jen Robinson, because it really is so expertly handled and informative.
And, there is some cause for hope.
There were two press conferences; one a telephone conference call (actually on the 18th), and then the one with Ecuador's Foreign Minister beginning at 4pm on the 19th.
Altogether there was a large volume of  writing of one kind or another published with the two year anniversary focus, and, all told, there was a surprising amount of decent reporting and lots of interesting articles. And the subject matter did stay relevant, by and large.
Human Rights Watch, mindful of the anniversary, had Assange and WikiLeaks topping their Daily Briefing with a surprisingly forthright statement headed – 'On Assange Anniversary, Press Freedom Held Hostage'. And there were other similar statements. It felt like a different climate.
In fact even the UK media (with the exception of Channel 4, who just made themselves look like idiots, and were apparently making the assumption that the police were guarding the Embassy to keep Assange safe?!) didn't really trot out the usual cloud-cuckoo-land stuff about safety-in-Sweden and no-US-interest, with The Telegraph even saying he was 'wanted' in the US. So maybe that narrative is finally wearing thin (except with C4News)…
As Julian said in his 2 year message:
Truth has a habit of reasserting itself. It asserts itself in our resolve and our commitment. It may have been possible at one time to ignore the truth about why I am unable to leave this embassy.
The implication being that, now, of course, it is not; on the whole, that seems to have been borne out by today
Here's some audio from the earlier telephone conference call from Macleans' soundcloud
JIM PHONES NICK CLEGG
And like Channel4 News, there's no point in expecting the politicians to keep up, especially if they're the deputy Prime Minister…
Jim, a stalwart of the Daily Vigil, managed to get in a question on Nick Clegg's radio phone-in thingy on LBC. Here it is at 32.32 – Jim from Pim..lico:
Apart from the knickers-in-a-twist-bit about how Julian should be facing Justice (Swedish allegations?) in his own country – err, Australia (?), Mr Clegg told us (now, I'll bet you never heard this before, wait for it) that Sweden (dontchaknow!) is not a banana republic, you know (bit of casual racism there too, Mr C, huh?)
In fact  'Sweden, as far as I can make out,' (note that he's hedging his bets there) says Nick, 'is a pretty civilised country with a pretty sophisticated justice system and I'm assuming (oooh,more hedging) they'll give him a fair trial (typical politician: another clause->) in accordance with Swedish law…
Just for a laugh, though, here's what Nick's face was like when he heard the #Assange-word: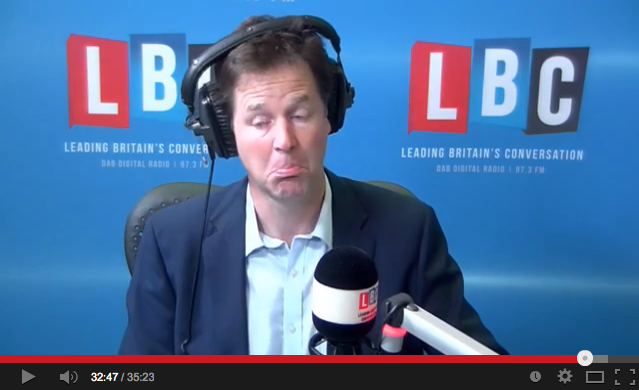 TIME ON HIS SIDE 
As Hazel Press commented in their summary of the case to date, The Six and a half Million Pound Man, pub'd 19th June:
Time is on Assange's side.

Over the last two years, the instruments needed to overcome or deter a U.S. extradition bid have been gathered together. An increasing circle of political allies stands ready to enter that fray, whilst continuing to apply pressure to the distortions of law that are often employed against Assange and WikiLeaks. 
DETAILED SUBMISSION TO UN FROM 59 INTL ORGANISATIONS
In another initiative to move things on, 59 international organizations called upon the United Nations On Sunday 15th June, to:
remedy human rights violations in pre-charge detention of Wikileaks publisher Julian Assange
Again, from the press release:
Before the United Nations this Sunday, 26 international human rights, fair trial, and jurist organizations, and 33 Latin American civil society organisations, condemned Sweden's violation of the fundamental human rights of WikiLeaks editor-in-chief Julian Assange, who has experienced protracted pre-charge detention stemming from a Swedish investigation which has yet to charge him.

Mr. Assange's pre-charge detention has spanned nearly four years as US Federal Grand Jury prepares a criminal case against WikiLeaks and it's officers.
The reports were formally submitted to the UN's Universal Periodic Review (UPR), the peak UN human rights review mechanism that investigates each country's human rights record every four years.
As I understand it (oops, beginnin to sound a bit Clegg-like there..), this submission consists of three approaches; one an appeal for the UN to intervene with Sweden, one a detailed complaint regarding Sweden's human rights and procedural violations in Julian's case (also with reference to systemic violations in Sweden and giving recommendations), and one to bring the broader issue of the denial of asylum rights, and the right to the protection of life.
So, that's another avenue being pursued.
LETTERS & STATEMENTS OF SUPPORT
Ecuador
Both Rafael Correa and Ricardo Patino, Ecuador's President and Foreign Minister reiterated Ecuador's support in giving asylum to Julian, saying he could stay as long as necessary, and Ricardo Patino held a joint press conference with Julian. You can read the (google) translation of Ricardo Patino's statement given to this meeting here, and some of the session, incl some Q&A is storified here from Bethany Horne's live (translation) tweets later storified by m_cetera – thanks!.
Here's the video in the original Spanish (Spanish transcript here, if you think you can better google's translation – prob not hard..)
Scott Ludlum
Australian Greens Senator Scott Ludlum sent a letter to Rafael Correa, thanking him for Ecuador's protection of Julian, and regretting that Australia, Julian's own country, had failed in this so abysmally. He ends:
On behalf of many Australians, I thank the Government of Ecuador for standing up for principles up against powerful forces that would prefer capitulation to economic and political bullying. Your actions certainly inspire other countries.

President Correa, I deeply regret that my country is incapable of an independent foreign policy, but am grateful that an Australian citizen can find protection from the sovereign nation of Ecuador.
60 press freedom & human rights groups
A letter published by Freedom of the Press Foundation and signed by 60 human rights and press freedom groups, including  called on the US Dept of Justice to
officially close the criminal investigation into WikiLeaks and its editor-in-chief Julian Assange for publishing information in the public interest.
The letter, addressed to Attorney General, Eric Holder, asks him to give some substance to his claim that
as long as I am Attorney General, no reporter doing their job is going to go to jail
The letter also points out
the US govt made freedom of expression on the internet one of the priorities of its foreign policy: this commitment must not be limited to the international arena.
Veterans for Peace UK
Veterans for Peace UK also wrote a letter: but this one was to the Swedish Embassy in London, and a delegation delivered it to the Embassy in person, in order to
voice grave concerns arising from the ongoing situation of Wikileaks Editor Mr Julian Assange,
VfPUK invited them to pick up the tab for policing the Embassy (£6.3m so far), a cost that continues to accrue due to the Swedish prosecutor's, either willful or enforced, intransigence. in  refusing to interview Julian where he is.
Here's how it went:
Cryptome
Cryptome's tribute is…kinda beautiful. I found it very moving. Starts:
Assange is endlessly inventive, combative and uncompromising. If not holed up in an embassy and creatively adapting to and maximizing that circumstance he would have devised another, another and another…

and ends:

What he is, has done, will do, is exemplary if it makes the slightest dent in our indifference to our irresponsiblity for each other and girds us to go against those who benefit from centralized manipulation of our blase, our boredom, our suspicion, our paranoia, our fear and hatred of those unlike us, our maniacal defense of those like us – the human condition profiteers, demagogues, tyrants and genociders thrive on.

Salutations, Julian, keep up the fight too many of us  fear to fight.
John Pilger
And here's a very short video statement by John Pilger from outside the Ecuadorian Embassy, calling for justice for Julian.
AN IMPORTANT NEW RELEASE – THE SECRET TISA NEGOTIATIONS
So, we've had the Trans Pacific Partnership -TPP, the Transatlantic Trade & Investment Partnership -TTIP, and now this little nugget is the TISA – the Trade in Services Agreement.
These trade negotiations, which are hugely significant for how the future pans out for our whole world, are being conducted in complete secrecy by governments lobbied and responsive to large and powerful corporations, whose interests are all that is served by the deregulation they are pushing.  Democratically elected representatives are no more privy to these negotiations than the general public, yet they are frighteningly portentous.
photo from @pixelwhip
We had WikiLeaks to thank for revealing the state of play with the Intellectual Property section of TPP (coming just before a critical summit at which irreversible agreements could have been forged).
Now we have WikiLeaks to thank for revealing the secret draft Trade in Services Agreement: Financial Services Annex – TISA – just before the next meeting, which is due to take place between 23rd and 27th June. And the negotiations for TISA have been kept even more secret than for TPP, with a plan to not declassify the information for up to 5 years after the agreements are in place…bells should be ringing here.
Well, yes, because this is the financial services. And it's all about deregulating them.
Alarmed? We should be. And bloody grateful to the whistleblower/hacker and WikiLeaks. Without them all this shit would be done and dusted before we could squeak, let alone scream…honestly, peoples, take it on board: sometimes little WikiLeaks, besieged Assange, vulnerable whistleblowers, who have the integrity and courage to do this stuff, are our last defence.
They not only deserve our protection and support, but we can't afford not to give it to them for our own sakes, and the sakes of the people of the world.
Here's the press release, with articles from the media partners (including Italy's L'Esspresso, (who say passing it would be the ultimate victory of finance policy) linked to below the WikiLeaks logo in the left margin. And there's analysis of the document from Professor Jane Kelsey, Faculty of Law, University of Auckland, New Zealand, here.
AND SO TO THE CREW OUTSIDE THE EMBASSY…
With all that adrenalin flowing (and the sun shining), it's not surprising that the supporters outside the Embassy were in good spirits!
Many people had signalled that they'd be there, and they were! And it was a great time of solidarity and mutual encouragement. Gavin and Susan McFadyen, John Pilger, Andy Worthington and, yes, that is Polly Harvey with a lovely smile on her face that really captures the atmosphere perfectly.
Photo @Chelsealibera
In this post, we wrote about PJ Harvey; who invited Julian to deliver the 'Talk for the Day' when she guest edited Radio 4's early morning 'Today' programme on Jan 4th. That programme was a minor miracle. Don't know how they let it through! If you haven't heard it, try to – links in the post.
Joining the Daily Vigilers at the Embassy were also long term supporters from groups like Payday Men's Network & Queer Strike, Veterans for Peace UK, London Catholic Worker, London Guantanamo Campaign, Ecuadorian Movement, Anons, and many other individuals  for whom the mission and protection of WikiLeaks and Julian Assange are important.
From Emmy:
The atmosphere was lovely and affirming. People were happy to be there and everyone was talking to everyone else; many familiar faces, but also new ones.

WikiLeaks really looked after us, sending out a flyer for the occasion -"Two Years Too Long" – with some info, a photo of Julian inside the Embassy, and a note that he would send out a message a bit later; some delicious strawberries for people to share; and some Two Years Too Long T-Shirts as a momento  of the day.

We supporters, for our part, sent in a bouquet of flowers to Ambassador Falconi to thank Ecuador for protecting Julian's life and his WikiLeaks work, and we sent in sunflowers to JA with our thanks & gratitude for his work & sacrifice.

And then the message from Julian was passed out and read by Susan. It was really heartwarming.

People also brought cake and other foods to share which was greatly appreciated.

And we collected about 50 Happy Birthday messages for JA, which we will put together in a small notebook and then present it next month for his birthday.

Several of us spoke to the assembled press to explain why we were there and why it was important to us.

So we held our posters, chanted support messages, and discussed the latest development regarding the Swedish case, hoping and wishing for Julian to be soon Free.
We agreed to meet again on the 3rd of July at 6pm outside the Embassy to celebrate JA's Birthday.

Several organisations represented by their members added their own banner on the railings, so there was soon an inspiring display. Police presence was small but directly employed in front of the assembled crowd. Their presence was of course unnecessary, but maybe they will benefit from the good vibes!

Solidarity, Peace, Knowledge, Persistence. Firm in our message: "Free Assange" "Support WikiLeaks" "No Extradition".
MORE PHOTOS!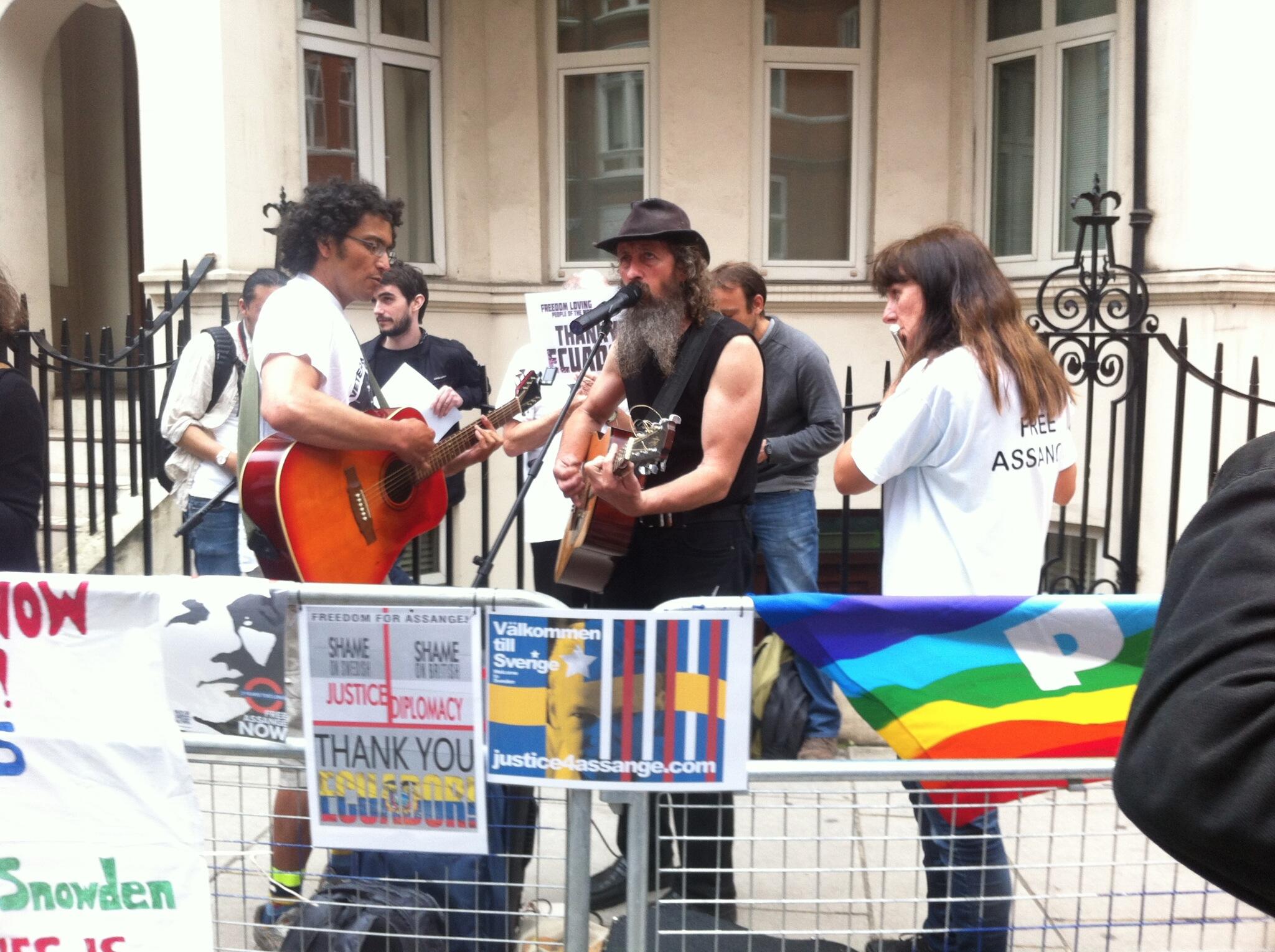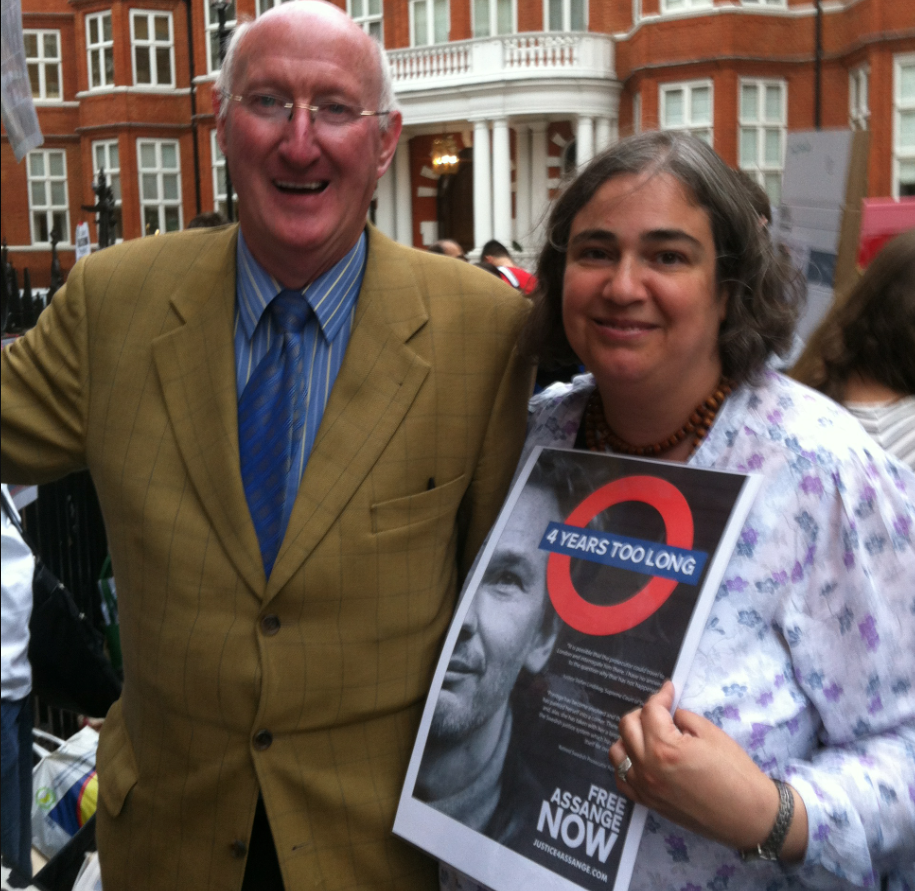 Two *famous* people!                                                                 Da Band!
  
                     Viva Ecuador!  Pull yer finger out, Sweden!  And GuantanamoAndy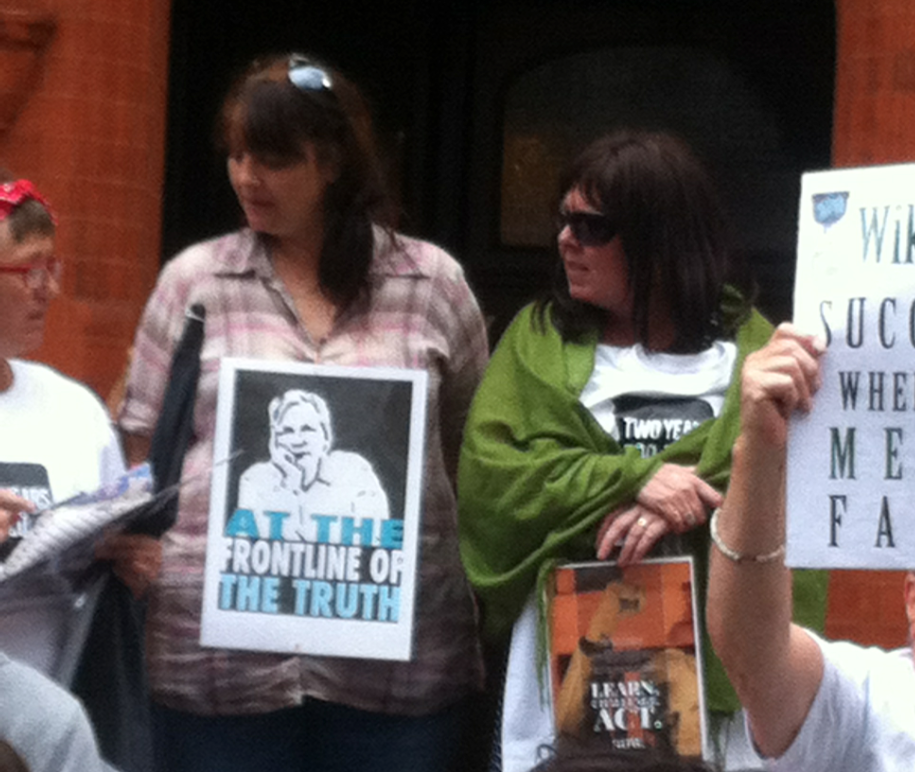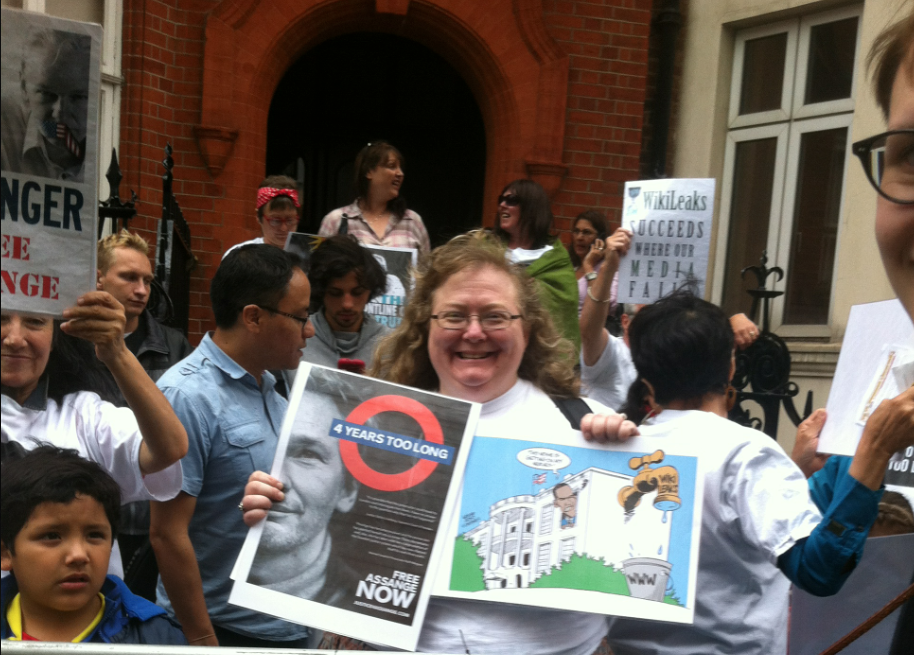 Frontline of Truth   these photos KathyDaSilva demotix  4 years too long
 
Australian flag.  Don't shoot the Messenger!   Free Assange!   We are all Julian Assange!

                                               QueerStrike
Free Assange! Choose Freedom!Photos Kathy Da Silva demotix Pace Banner Free Assange t-shirt
                 Sweden!      Photos Kathy DaSilva  demotix      Choose Freedom!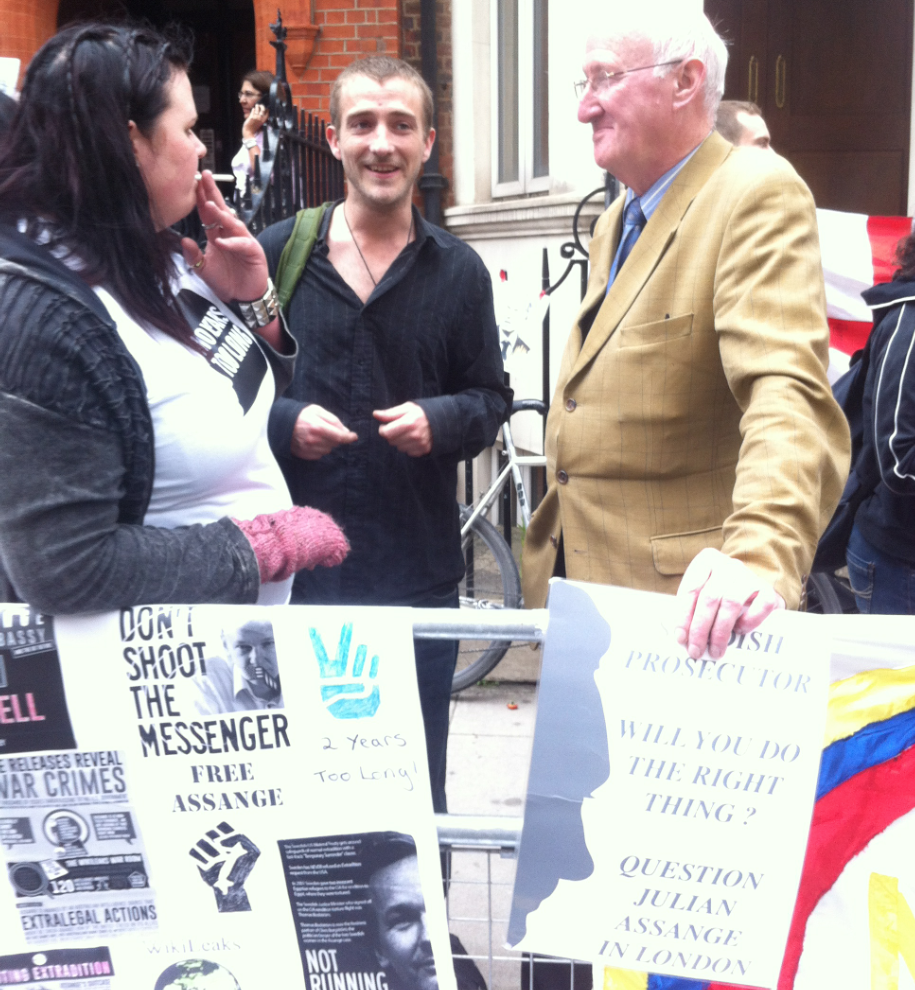 More photos – Andy Worthington; Henrietta_(CW), Kathy Da Silva
YOU REALLY MADE IT A GREAT DAY, ALL!
All in all, it seemed like an awesome seizing of the day! You'd be hard pushed to have squeezed more out of it, or made better use of the anniversary and the obvious opportunity it presents to spread the word, move the stalemate on, fight for human rights, educate, challenge, affirm and FREE ASSANGE!
Getinthere, you WikiLeakers, Lawyers, Supporters, DailyVigilers, Essayists, Protesters and Proclaimers!